Overview
Advanced print quality, productivity and finishing process give strong support for monochrome POD* business.
* Print On Demand: To print the quantity you need, when you need it.
No.1 market share for 5 consecutive years in mono production products.*1
(IDC, 2012 – 2016, World Wide Monochrome Laser cut sheet products, 91 ppm+)
Outstanding print speed of 136 ppm*2.
High Capacity Feeders and High Capacity Stacker make continuous mass printing possible.
Offering the latest finisher lineup. Cover insertion, three-sided trim, and saddle stitched booklet with square fold supported.
Simple Image Quality Adjustment (SIQA) makes alignment adjustment easy.
Equipped with various copy and scan functions useful for office operation.
Possible to register optimal print settings for each paper type.
*1: Worldwide Hardcopy Peripherals Tracker 2017Q3 Monochrome Laser, A3, Cut sheet, Monochrome Laser 91+ppm, Light Production, Mid Production, Production Share by Company.
*2: For B9136 Copier/Printer with A4 LEF. 125 ppm for B9125 Copier/Printer, 110 ppm for B9110 Copier/Printer, and 100 ppm for B9100 Copier/Printer.
Productivity & Stability
Quality
Versatility
Image Processing
Office
Security & Management
Copy On Demand
Productivity & Stability
TECHNOLOGIES SUPPORTING HIGH-SPEED PRINTING
High-speed continuous printing of 136 ppm*1 has been realised for both 1-sided and 2-sided printing.
Reliable fusing on paper transported in high-speed is now possible with EA-Eco LGK*2 toner that allows fusing at lower temperature than existing models
and a roll type fusing unit providing constant heat supply.
*1: For B9136 Copier/Printer with A4 LEF on continuous printing of the same original document.
*2: EA: Emulsion Aggregation. LGK: Low Gloss Kuro (Black).
STABLE PAPER TRANSPORT
Wide turning angles in paper path provide stable and speedy paper transport. This device has a good resistance against paper jam by adopting vertical paper inversion mechanism for 2 sided printing to reduce curves in the paper path.
In addition, there is less impact caused by heat generated by fused paper on the transfer mechanism and it hardly causes troubles with paper path and image quality.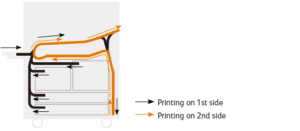 CONTINUOUS MASS PRINTING ENABLED
You can enjoy seamless operation at continuous mass printing as cartridge replacement and paper refill can be done while printing is in progress. A
single high capacity toner cartridge can yield approximately 71500 pages* for printing.
* A4 LEF size, area coverage 6% at continuous printing. Reference of Fuji Xerox test criteria.
Quality
Versatility
Image Processing
Office
Security & Management
Copy On Demand